CfE Accelerator invites you to the ninth Meetups4Startups in 2023 🔥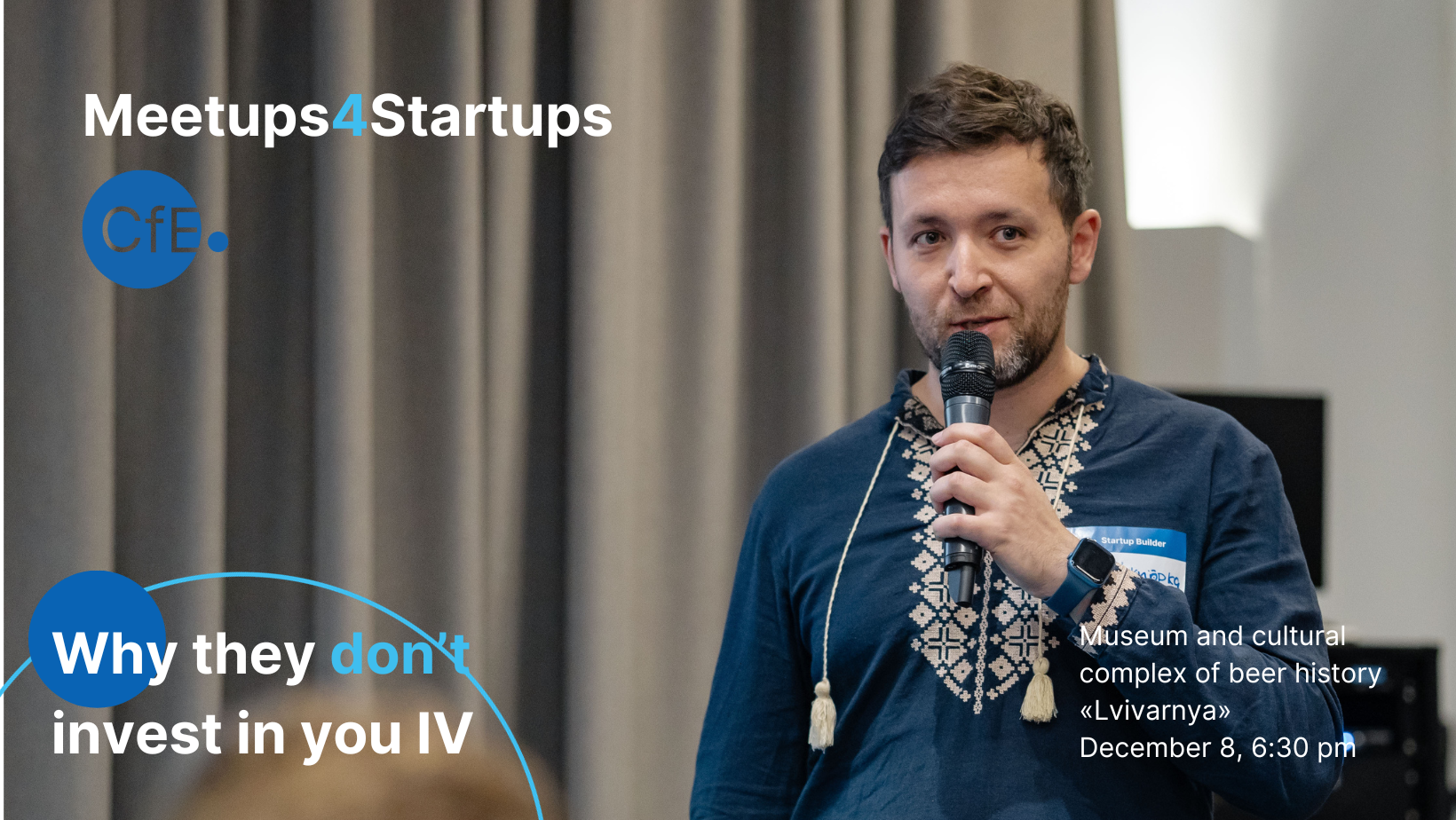 The next meeting of the startup community will take place on December 8, where we will be discussing "Why don't they invest in you? (Part 4)". Registration will open soon!
What awaits you? 
An opportunity to present a pitch in front of a real audience;
A thorough analysis of the speech and answers to hot questions: Does the startup have a chance to receive funds? What should be improved? Why is the startup not invested?
Feedback from real investors;
Quality networking: getting to know colleagues and like-minded people, valuable contacts, and communication with expert guests and investors in an informal environment.
A buffet and drinks are all necessary components for a pleasant atmosphere.
Do you want to seal your project in front of real investors and get feedback from them? In the registration form, check "register for pitching", and we will select 5 startups from among them! Participants who will not present their projects will have the opportunity to listen to the speeches of their colleagues and join the discussion!
The jury:
🔹 Adrian Slywotzky – Partner of "Oliver Wymann", an Angel Investor, business thinker and best-selling author!
🔹 Marvin Liao – Partner at Diaspora Ventures, Investor & ex-Tech/Media exec
🔹 Oleksandr Yatsenko 🇺🇦 – Principal at SMOK Ventures, Chairman of the Board of Techosystem
🔹 Taras Kirichenko – General Partner at Toloka.vc
🎙️The event moderator will be Ivan Petrenko – CEO at CfE Accelerator, Managing partner of Angel One Fund.
Winners of the pitching will get 1000$ as a reward!
🔹Pitching running in English
🔹A pitch deck is 20 MB max
🔹The pitch lasts up to 3 minutes
All teams will receive feedback from top representatives of investment funds.
Topic: "Why they don't invest in you?"
When? December 8, 6:30 p.m
Where? Museum and cultural complex of beer history «Lvivarnya»
Deadline: for participants – December 7, 6 pm; for pitching teams – December 5, 2:00 pm.
🔵 Entrance is free with prior registration [deadline: December 7, 6:00 p.m.]
🔵 The cost without registration is 250 UAH
See you!